Description
Film directors for hire | Freelance film directors | Film directors for hire near Kolkata
'How to find a director for your film' is perhaps one of the most intimidating questions posed before a producer, and things can go wrong quickly if the hiring is done without much research into the director's background. As a filmmaker, pretty much every organizational facet of the production process is placed on one's own shoulder – which is why it is important to be on the lookout for film directors for hire, who are not only invested with script writing, editing, screenplay and angles for the perfect shot, but also has a lot of responsibilities delegated to him. Whether approving budgets, hosting and attending client meetings, managing deadlines or further delegate work to new employees, the right director is versatile and can yield favourable outcomes for the project.
Why you should choose us
We have a highly capable team of freelance film directors who have a passion for being behind the lens and fine-tuning shots to perfection. 15 year experienced film making company Power Publishers & Motion Pictures provides some of the most industrious film directors for hire near Kolkata, who maintain top-notch professional etiquette by consistently adapting to the client's preferences even during post production services. A great project is certain with collaborative efforts from both the producer and the director, whether on casting decisions or final takes.
Director Profile
Rishav Ghosh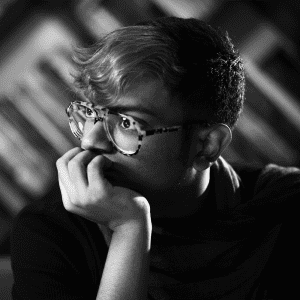 Rishav Ghosh is a filmmaker, photographer, graphic designer, and painter. A an alumni of La Martinere for Boys, Kolkata, Amity University Noida (Film & television Production), Jadavpur University (film), Rishav has written, and directed 5 films, the most notable ones being Drishtika: I See You (2017) and Synthetic Sati (2019), Agamani (2019), Dekho But Pyaar Se (2021), marking him as one of the youngest filmmakers in India. Rishav has been the assistant director of the feature film Sin Sister (2019). Rishav is the author of 2 books, Sanjivanir Sandhane (Bengali)(2014), and Eighteen Scars (2015), which ranked 13th among top sellers in Flipkart. Rishav is into painting and photography and has received several awards for the same.
Work Samples
Director Rishav Ghosh's work samples